I didn't realize it until just now, but the San Diego Troubadour ran a review of my latest album "Handmade". I'm sorry I missed it in print. Well, here it is in it's entirety:
TERRY MATSUOKA: Handmade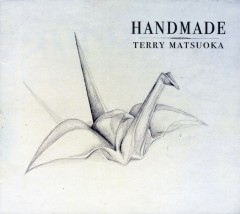 "First of all, we exceeded our goal on Kickstarter! We raised over $4000 for the release of my new album Handmade. This is going to allow me to be able to give my new music a proper push into the world," wrote Terry Matsuoka on his website, back in October 2013.
Immediately upon opening the plastic wrap, the touch of the card-stock utilized on the CD cover felt soft and silky, which accentuated the hand-drawn meld of a flower and a crane centered on the front. The lyrics of all 12 songs are inscribed on one of the eight panels as the quad-fold cover is unfurled, reminiscent of the lyrics on the LP record sleeves used back in the day which prevented our vinyl from getting scratched...