I didn't realize it until just now, but the San Diego Troubadour ran a review of my latest album "Handmade".  I'm sorry I missed it in print.  Well, here it is in it's entirety:
TERRY MATSUOKA: Handmade
By Michael Ray Madriaga, January 2015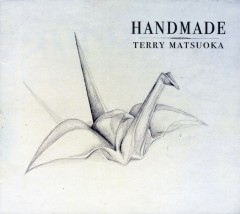 "First of all, we exceeded our goal on Kickstarter! We raised over $4000 for the release of my new album Handmade. This is going to allow me to be able to give my new music a proper push into the world," wrote Terry Matsuoka on his website, back in October 2013.
Immediately upon opening the plastic wrap, the touch of the card-stock utilized on the CD cover felt soft and silky, which accentuated the hand-drawn meld of a flower and a crane centered on the front. The lyrics of all 12 songs are inscribed on one of the eight panels as the quad-fold cover is unfurled, reminiscent of the lyrics on the LP record sleeves used back in the day which prevented our vinyl from getting scratched.
The first song, "The Minute (Sell my Soul)," starts off with his wonderful guitar strumming, which eludes a romantic feel; then Matsuoka vocalizes the chorus about "Selling his soul to get his money back," which has a comedic tone that adds to the contrast of the daily hustle and being broke. The song changes its demure at about 3:00 with Matsuoka's rhythmic tapping (on his guitar) to provide a back beat, and his skillful acoustic guitar solo to cap it off. This song is a great way to start off the acoustic rock album.
"This is by far my best work yet! It's mostly acoustic with a few full band songs. Besides myself, there are appearances by Catherine Nguyen and Joanie Mendenhall on vocals, Rodney Jones on drums, Chad Tuthill on accordion and bass, and Jan Elie on cello," raved Matsuoka on his pre-release notes.
"Where Did She Go" is the fourth song on the album, again beginning with a great guitar intro and an upbeat feel where you can really hear Matsuoka's voice range backed by Nguyen and Mendenhall. The song is about someone scorned who was left behind, and it is difficult to remain gloomy throughout the song, when at 2:50, a playful nursery-rhyme tone ensues, accompanied with lyrics, "… remembering the good times." On this track you can hear his two guitars playing in unison and Elie's cello toward the end where "(he) never got over her."
"Scraping for a Purpose" starts off with a purposely distorted mic check, 1-2 voice and tells the story of a person who is trying to find answers via religion and a woman; at the end it concludes, "I was made to produce … and I'm looking to reproduce." At 1:31 and 2:30 this song exudes Matsuoka's masterful guitar technique as he jams out to Jones' drums.
"I have been recording with my talented friend/ recording engineer/ producer Glenn Suravech. This part of the project is finished. I'm very proud of how it has turned out and hope that you will feel the same," informed Matsuoka.
Handmade is a well-crafted ensemble in which each song is strategically placed. From beginning to end, the songs exhibit an abundant amount of raw talent from Matsuoka and his team, tied together with "real and now" lyrics.